Message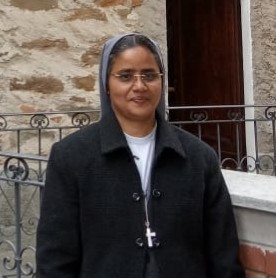 Auxilium English Medium ICSE(Council for the Indian School Certificate Examinations)  School was established in 2002 with the aim of offering value based and holistic education to the children of the locality.  True to its vision, various opportunities are offered to the students to grow into responsible human beings who will be agents of social transformation in today's world for a better tomorrow. The motto of the school is "Together for a better world". Our emblem is represented by world in which there is the image of Mary Help of Christans and the educating community. With the help of Mary our Mother and model we want to build a better world of love freedom, sincerity and communion with one another. Auxilium is a place where students learn lessons to lead a happy and meaningful life.
Dear educators, as facilitators we should always encourage each student to develop in his/her special field of interest. Teaching is a mission first of all. Nurturing the mind of a child is a noble mission.  We should understand the fact that all the students do not have the same talents and each one will achieve success differently. As educators we need to work together in an atmosphere of loving kindness, joy, friendliness, family spirit, in deep relationship with God, fidelity to duty and spirit of service. We need to incorporate such activities that help the integral development of each child to prepare them for a globalized world.
Dear Auxilians , ensure your participation in all co-curricular and extracurricular activities. Learn to be yourself always, no matter what the circumstances are, be principled, and worthy of trust. Remember even a billion starts with one. All you need to do is taking that one step and keep trying again and again until you reach where you want to be.
We are able to make progress in all our endeavors because of the whole-hearted collaboration and encouragement of teachers, parents and friends.  My sincere gratitude to each one of you , for your generous support and continuous collaboration.  I am sure that with the co-operation of all and with the blessings of the Almighty God and Mother Mary the School will continue to make giant strides in the years to come.      
Sr.Sherly Joseph